Twitter is unveiling new design features that will include brand pages for supporting advertisers.
Everyone has been wondering how Twitter will begin to monetize its traffic volume. Promoted Tweets, Promoted Trends and Promoted Accounts are already a part of the Twitter business model. A promoted Twitter account is featured in search results and within the Who To Follow section, Twitter's account recommendation engine that identifies similar accounts and followers to guide users to discover new businesses, content, and people on Twitter.
Soon, Twitter's Enhanced Profile Pages will permit brands to display their logos more prominently, let them "pin" tweets to the top of their timelines and have selected tweets automatically expand to display YouTube clips or other content. These are just a few of the new features announced along with 21 initial beta brand partners launching Twitter Business Pages. Brand pages for nonprofits and individuals are on the way.
As small businesses become more familiar with new techniques of engagement using social media marketing tools, they are allocating more time to engage their target audiences. That's the findings revealed in the latest November, 2011 report from marketing specialist Constant Contact. A full 81 percent reported using social media to market their businesses, up from 73 percent in the spring of 2011. Click for the Key Findings of this report.
Twitter is quickly regaining ground as usage surged in the last six months, from 60 percent in spring 2011 to 76 percent in November. Effectiveness scores also improved across certain key social media marketing channels in just six months, with 60 percent of those using Twitter finding it effective for marketing their business, up from 47 percent in spring 2011.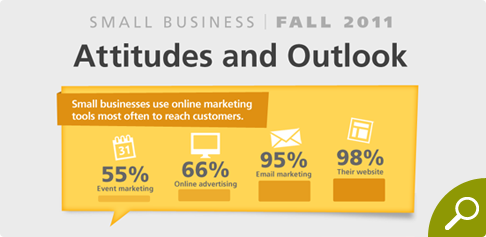 Infographic by Constant Contact