Cover design, editing, interior layout, publishing, and marketing by DesignWise Studios
I feel privileged to work with emerging authors who seek to self-publish their work. I typically partner with BookBaby for printing and distribution because they are recognized by Ingram and thus your book is made available to independent booksellers. Here are two examples of recent books I designed including everything from the cover to the interior layout, as well as editing and metadata for distribution.
Poetry & Performance, Volume 1
In 2021, Darlene Witte, a Canadian poet and educator, created a Green Mountain Writers' workshop called Poetry & Performance to bridge the gap between poetic words on a page and poetry read aloud. Since then, her workshop has become a popular mainstay for poets from around the world and across the Nation who have banded together to publish this first volume of their work. Poetry & Performance Volume 1 was designed, complied, and edited by Stephen Kastner at DesignWise Studios.
Featuring 25 poems by their member poets
$15.95 (+ $4.07 shipping and handling)
Living with the Neighbors by Jodi Girouard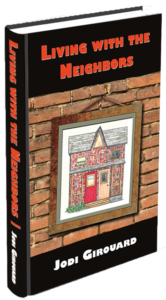 Jodi Girouard is a native Vermonter who has been writing stories since she could hold a pencil. She is a wife, a mother, a writer, and a survivor of mental illness. She has previously published two collections of her poetry: Body Language; a woman's voice and Faces in the Crowd. A recent essay, "Within the Fields of Possibilities" is included in the 2019 edition of Much Madness. She has won several writing contests and her poetry is featured in the July 2019 edition of Wordgathering.
Living with the Neighbors (2022) is a compelling story about a woman overcoming a barrage of obstacles, finding strength in her poetry.
Using her gift of spirit, Jodi reclaims her wellness through writing poems and gifting them to others. It is also a story about a single consciousness invaded by angry, life-threatening, audio-hallucinatory voices that Jodi dubs "the neighbors" in order to divide and protect her mind.